Persistence II - Rye Imperial Barrel Aged Stout 2021 Release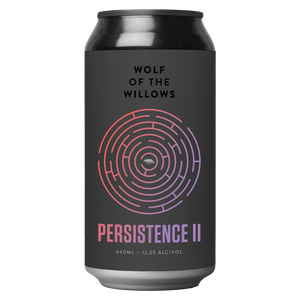 2021 Vintage, Cellar Stock.
Persistence: to continue in spite of opposition, frustration or fatigue.
Just like the challenge of a maze, we all take different paths, we all hit dead ends, but with persistence we all grow and come out the other side, much like Rye does.

Symbolic of our time, 'Rye' grain continues to grow even in harshest of conditions, and hence to some, including Wolf of the Willows, has been a symbol of 'Persistence'. Rye was the hero of this beer, so it felt only natural to reach out to their mates at The Gospel who specialise in making exceptional rye whiskey, a unique offering in the Australian market.

This Rye Imperial Stout was aged for 6 months in hand selected Rye Whiskey Solera barrels from The Gospel Distillery, with the result being an Imperial Stout rich in Rye Whiskey barrel aged flavours of molasses, liquorice, dark chocolate, spices and roast. The empty barrels were returned to The Gospel and filled with a specialty Rye Whiskey to create 'Persistence Rye - Imperial Stout Cask Finish', to be released in 2021.
Finish molasses, liquorice, dark chocolate, spices and roast

12.2% ABV