PACIFIC SOUR - Tropical Sour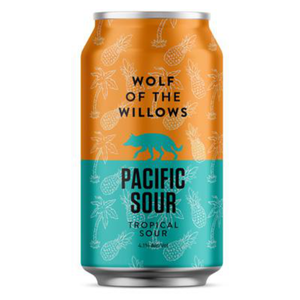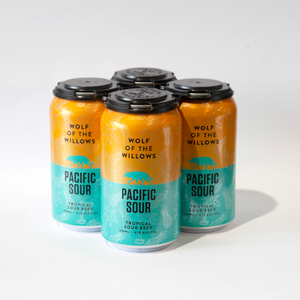 When you're looking to smash a tangy and juicy froth poolside on a hot summer day, this session sour has your thirst covered.
Bursting with lush, tropical fruit flavours of pineapple, passion fruit, mango and guava, and finishing with a quenching tang from the kettle souring. To get extra juicy fruit flavours, we included actual pineapple, guava and mango juices.
The ale, wheat and rolled oats create a cloudy haze that has been kettle soured with lactobacillus and fermented with the Wolf of the Willows unique yeast strain.
It's easy on the booze yet uncompromising in tropical hop aroma and juicy flavour. Take this Wolf to the Island Bar!
Hops Vic Secret hops create the tropical fruity flavour and citrus aromas
Malt Ale, wheat and rolled oats for a cloudy haze
Finish Tart, juicy, thirst quenching
IBUs 8

4.1% ABV
FREE delivery available on most purchases above $60. Please see HERE for all details.
Food Match
Easy: A bowl of your favorite nachos, dripping in melted cheese, avocado and a light salsa.
Medium: Mussels with a squirt of lemon, crusty bread on the side for dipping.
Harder: Sour beers are best served with fatty, rich foods. You can use a mildly tart beer (like this one) to refresh the palate, increase salivation, and decrease fatty, salty or umami tastes. If you want to get real fancy, pair it alongside foie gras or a rich meat dish like duck. Marriage made in heaven.
Cooking with beer: Go on, give it a crack. Impress your mates and yourself with this easy recipe for Pacific Sour with Cloudy Bay Diamond Shell Clams, fennel and parsley (Click on hyperlink). Damn tasty!