Lark Barrel Aged Imperial JSP IV + V Tasting Pack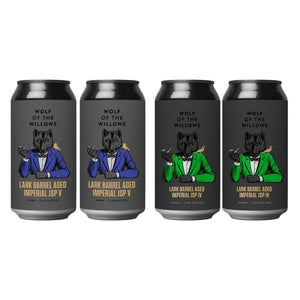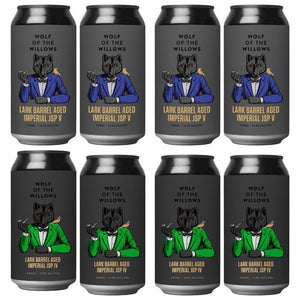 With the release of Lark Barrel Aged Imperial JSP V comes the ability to have a vintage tasting of one of our favourite beers.
Our Lark Whisky Barrel Aged Imperial Smoke Porter, an annual collab with Lark Distillery, now in its fifth year, has won multiple medals along the way. Most recently a Silver at the Australian International Beer Awards.
Each iteration of Lark BA Imp JSP varies slightly from year to year, as a result of the unique characteristics of the hand selected barrels. The beer spends up to 9 months in barrels where it develops intense richness and complexity from the whisky.
Upon release the beer exhibits notes of molasses, dark chocolate, cherry, liquorice and espresso, but as the years pass, we see dark toffee, plum and baking spices come to the fore. 
The Lark Barrel Aged Imperial JSP Vintage Tasting Pack Includes:
4pk = 2 x 440ml Lark BA Imp JSP V 2022 Vintage, 2 x 440ml Lark BA Imp JSP IV 2021 Vintage
8pk = 4 x 440ml Lark BA Imp JSP V 2022 Vintage, 4 x 440ml Lark BA Imp JSP IV 2021 Vintage