King Louis XIII West Coast IPA with added Terpenes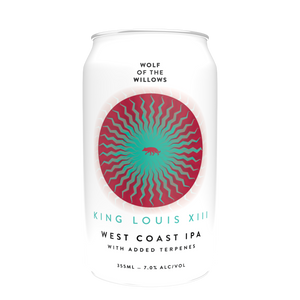 West Coast love for the King!

Number TWO in our Terpene 'Entourage' Series is KING LOUIS XIII - Classic west coast hops Chinook and Simcoe provide piney, grapefruit notes with Strata lending dank with some ripe tropical fruit. We then add botanically sourced terpenes that have been blended to mimic the sensory profile of the King Louis XIII cannabis strain with Caryophyllene, Limonene and Myrcene . Expect this to contribute some pungent dank notes like fresh bud, with subtle sweet fruit. The terpene blend compliments the hop profile and lifts aroma and flavour. Like all our West Coast IPAs, expect a light malt body and pronounced bitterness.
Terpenes are naturally occurring aromatic compounds found in plants and botanicals that give them their distinct flavours and aromas. They are abundant in cannabis, and many other plants, herbs and flowers including the almighty hop!

Aside from smelling amazing, Terpenes form the base of 'Essential Oils' which have long been proposed to hold numerous health and therapeutic benefits. Essential Oils hold antioxidant and anti-inflammatory properties and are suggested to have positive effects on mood, stress and relaxation levels.
This beer contains no Cannabis.

To find out more about Terpenes, read more HERE

Yeast: American Ale
Hops: Simcoe, Chinook, Strata
Malt: Pale, Wheat, Carapils
Other: Terpene blend made to mimic the sensory profile of King Louis XIII cannabis strain, a Southern Californian staple
IBU 65
ABV: 7.0%