Wolf of the Willows x Lark Wolf Release IV Boilermaker Pack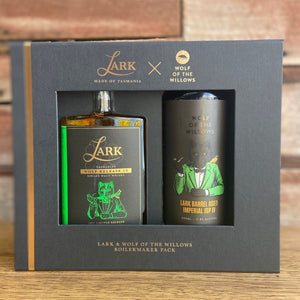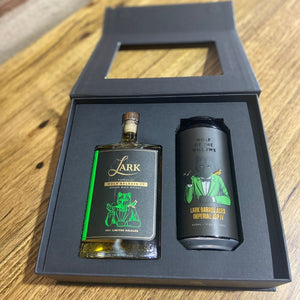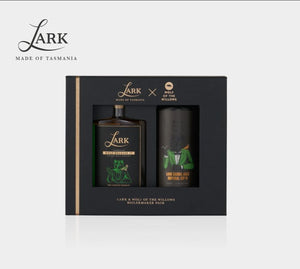 For the last 4 years, we have been fortunate enough to collaborate with Tasmania's Lark Distillery on a project we like to call the #barrelexchangeproject. During this time, brewery and distillery have saved a limited amount of whisky and beer in order to bring you a very special and VERY limited GIFT PACK - Just in time for Xmas.
Introducing the Imperial JSP and Lark 'Wolf Release IV' Boilermaker Pack - 2021 Vintage
If you like matching your barrel aged beers with Tasmania's finest whisky, it'll most certainly make all your boilermaker dreams come true.
Here's what's included in the Gift Pack: 

1 x 2021 Lark Barrel Aged Imperial JSP IV (1 x 440ml tins) - 11.8% ABV
1 x 2021 Lark 'The Wolf Release Whisky IV' (1 x 100ml bottle) - 50.0% ABV
Lark 'The Wolf Release IV Whisky' Tasting Notes
This year's comes from Lark's Bothwell Distillery, handpicked because it lifts and freshens any finish — even one as dark and brooding as Johnny.
Wolf Release IV takes a porter-braised core of smoked malt and chocolate and gives it a bright citrus lift.

Nose
Bright citrus, toasted coconut, caramelised malt, grapefruit, cocoa powder and oak.
Palate
Orange syrup, grapefruit, ancient oak, smoked malt, dark chocolate and toffee.
Finish
Smoky, creamy and bright citrus.

Read more HERE about our collaboration with Lark Distillery and the #barrelexchangeproject
FREE delivery available on some purchases above $60. Please see HERE for all details.