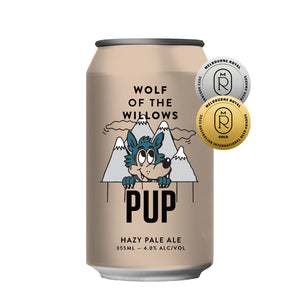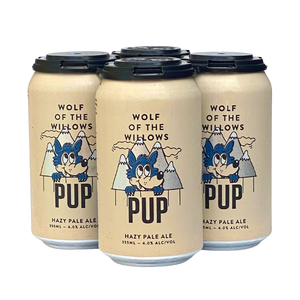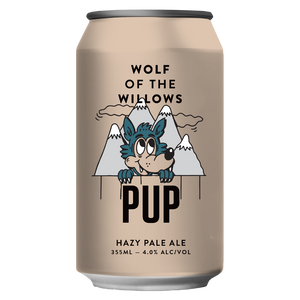 Meet the wolf PUP. He's your new wingman, your co-pilot, your new best mate. He'll always be at your side to kick the footy, cook that BBQ, and take the big dog for a walk - your local and trusty companion. 

This crisp and easy drinking Hazy Pale Ale has a little light ale malt, with rolled oats and wheat added to give it a little haze. Some Warrior hops to keep it low on the bittering, and the perfect amount of Citra and Galaxy tropical fruit hops to round out this tasty, smashable beer.
Hops: Galaxy, Citra

Malt: Pale, Rolled Oats, Rolled Wheat, Crystal

IBU: 16

Finish: Soft, creamy and session-able
ABV: 4.0% 
FREE delivery available on most purchases above $60. Please see HERE for all details.

Save your favourite watering hole! For every $100 spent Wolf of the Willows craft beer we will donate a credit of $5 to your favourite pub, bar or restaurant. Simply put the name and suburb in the notes at the checkout. #keepinglocalalive
Food match
Easy: Beer battered fish and chips with a wedge of lemon and tartar sauce on the side
Medium: Buffalo wings with carrot and celery sticks with a side of blue cheese sauce
Harder: Light Australian Pale Ales are the perfect match with white meats, including chicken burgers and all manner of spicy dishes like noodles and curries. Let's face it, you cant beat the old Sunday Roast! Dust off the Webber and spark up the coals to cook up your Honey-Rosemary Roast Chicken, with rosemary crusted potatoes, cauliflower cheese and grilled asparagus. Not only is this a match made in heaven, this beer is also the perfect sipper whilst preparing your feast. 
Cooking with Beer

Braising in beer is common in beer-drinking nations such as Belgium. The flavour permeates the ingredients, whilst tenderising. An Aussie pale ale is best for chicken and pork. For a easy but very tasty dish try cooking our Chicken braised in Wolf PUP Australian Pale Ale